Recordings by Joe Collins
and Mike McGee
(Go to Store to place an order)
Looking Ahead (2008) This mixture of traditional, original*, and popular songs demonstrates how much versatility and rich chordal possibilities there are with what used to be considered a simple, Appalachian instrument. It will have us "Looking Ahead" to other possibilities presented by the growing number of fantastic players across the county. Click on the picture to view the contents. (CD - $12)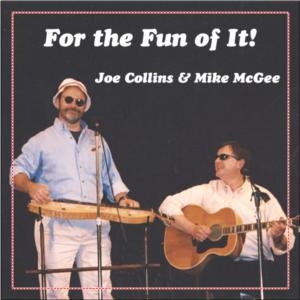 For the Fun of It! (2003) A collection funny and "feel good" songs that will bring a smile to all kinds of audiences. Most of the songs are written by Joe, but a few are old folksongs and hand-me-downs from younger days. One is written by a good friend, Dan Williams. Dulcimer and guitar are the primary instruments in this zany collection, and there are a couple of instrumentals, including Joe's arrangement of the "William Tell Overture." However, most of the CD includes singing and crazy lyrics! Click on the picture to view the contents and gain access to some sample MP3 files. (CD - $12)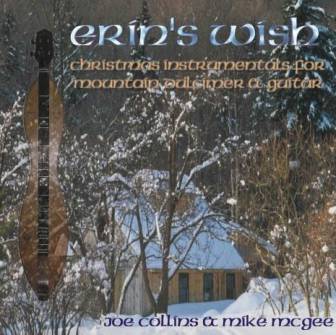 Erin's Wish (2001) The title of this all-Christmas recording is named after my daughter, and apple of my eye, Erin Collins. Every year at Christmas, she's the one who starts getting excited first and starts making wishes. We all join her after she prods us to get into the season. All arrangements are by Mike and/or myself except for Silent Night, which is arranged by our good friend David Putnam. I'm excited that my son, Sean, joined us on a couple songs with his drums. He adds a lot to "Personet Hodie" and "Erin's Wish." (CD - $12)

The Dancing of Time (1999) is a 55 minute mixture of original pieces, Celtic tunes, and traditional hymns. Joe plays several dulcimers on this tape, including his five-string dulcimer. Mike plays guitar on all songs, and three songs feature the following friends: Paige Timer - flute, Carol Barry - violin, and Brink Isaacs - guitar. Songs include A Mighty Fortress; Nearer My God to Thee; Si Bahg, Si Mor; Merrily Kissed the Quaker; The River Wide; Shortnin' Bread; Pam's Song; Aldia's Waltz; and 8 others. (CD - $12)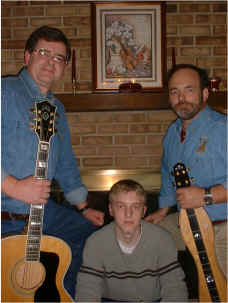 Recording Partners
Joe Collins and Mike McGee began playing together in 1988. Serving together on the same church staff for over eleven years as the Minister of Education and Minister of Music respectively, they had plenty of time to develop a unique folk sound with dulcimer and guitar. They play a variety of music which includes their interpretations of well-known and lesser known Celtic tunes, modern folk arrangements of traditional hymns, fun fiddle tunes, and a host of original pieces they have written over the years. Their friendship and their music are two strong bonds that now bind their rock & roll sons, Sean Collins (drummer) & Matthew McGee (guitarist).
Pictured above are Mike, Sean, and Joe.
Joe and Mike have played in a number of venues. They have given community concerts and performed on street corners. They have offered a wide variety of programs to church groups, civic organizations, and care facilities both as a duo and as soloists. They also have played in restaurants and for weddings extensively. Their love of music and their God are evident in their performances wherever they go.
(Go to store to place an order)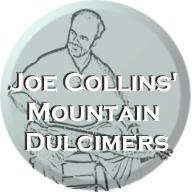 Back to Home Page