I'm doing something different this month on Free Tabs to highlight my club's upcoming Hymnfest on September 26. Rather than posting a couple different songs, I'm taking a traditional Afro-American spiritual and offering 4 different ways to play it. I hope you will experiment some and try out different ways to play "I Want Jesus to Walk with Me." It is a spiritual that has been published a great deal since the mid 1950s, both in hymnals and in choral arrangements. Written in a minor key, it has a haunting tune (Sojourner), but the message is really uplifting for Christians. The fact that Jesus is willing to walk beside us is Amazing Grace in action!
I will be teaching this tune in my club's Hymnfest, a great, FREE day of workshops and jamming with hymns. We're going to be focusing on hymns written in minor keys in the workshops, but we'll be playing and singing a lot of hymns in the jam. I hope you'll come. However, you won't know which of the following arrangements I will be teaching until you get to Shelby!
I Want Jesus to Walk with Me (DAd). This is a crosspicked arrangement that calls for a 1 1/2 fret. It is in the key of D minor.
I Want Jesus to Walk with Me (DAc). This arrangement is also in D minor, but it is an octave higher. It can be played without a 1 1/2 fret, but there is a tricky little bend in the third line.
I Want Jesus to Walk with Me (DAd w/ Capo on the 4th fret). This arrangement is in A minor. It is the same fingering as the DAd version above, only higher on the neck. No bends required.
I Want Jesus to Walk with Me (DAd w/ Capo on the 1st fret). This arrangement is in E minor. It requires bending on the 7th fret just like the arrangement above in DAc.


I have provided sound files for the free tabs.

Get on my e-mail notification list
If you would like to be notified by e-mail whenever I post new tablature, please place your e-mail address in the box below and click on subscribe.
Once you are on my e-mail list, you will receive a notification about once a month. Many of the people on my list are within driving distance of Shelby, NC so you may receive a couple of e-mails per year concerning dulcimer workshops and events in Shelby. If you are not within driving distance, please forgive me.

Tips on Reading My Tablature
Different authors use different conventions when writing out tablature. I have chosen to do mine in a way that is easy for beginners to use. First of all, the numerals that are in bolder, larger print represent the melody of the tune. If you do not play chords, you can simply use one finger (or more) to play only the melody notes with your noting hand while strumming all the strings.
If you do choose to the play the chords I suggest, realize that I do not put down the complete chord for every single note. I feel like doing so clutters the page with too many numerals. When you change into a chord (designated above the musical notes by letters - D, A, Bm, F#m, etc.), I assume that you will hold that chord until the next chord change. In other words, all fingers will stay in the same position except the ones for which the numerals change until the next chord change. When one numeral is listed for a note, it does not mean that you can hit only that string. Provided you keep the chord position that is listed under the most recent chord name, you can continue hitting all the strings.
Occasionally I will use an "X". This means to avoid hitting that string at all. Otherwise, it does not hurt to strum all the strings.
If a capo is called for, I follow the same conventions each time. I do not renumber the frets except for the fret where the capo is placed. That way the open position is still "0," just like without a capo. However, 5 still represents the 5th fret. Therefore, with the capo on the 4th fret, I have no numerals below 5, except for, of course, "0."

The tabs are in an ACROBAT format. If your computer does not presently have Acrobat Reader, it is available free of charge at the click of a button below. Just click and follow directions. You will then be able to read and print out the files using Acrobat Reader.
Click the box to download the reader necessary for reading and printing the tabs.

Sound Files
Do you need to hear the song in order to learn it? I know that for me, it is easier to learn a song if I can hear how it goes first. You can download the following files. They are in a midi format and can be played on a windows media player. If you do not currently have a media player, one can be downloaded by clicking HERE. The sound files are generally played at a slower pace than I would normally play them.
I Want Jesus to Walk with Me (DAd with 1 1/2 fret)
I Want Jesus to Walk with Me (DAc)
I Want Jesus to Walk with Me (DAd with Capo on 4th fret)
I Want Jesus to Walk with Me (DAd with Capo on 1st fret)

The Foothills Dulcimer Club
The Foothills Dulcimer Club of Shelby, NC meets once a month. The featured tabs for the meeting are the same ones as on this site. Please click on the button below to find out more about the club, its meeting times, etc. We'd love to have you come and join us!
Go to Foothills Dulcimer Club page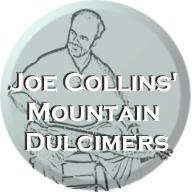 Back to Home Page